What is a Salesforce Consultant?
Salesforce consultants help customers implement or improve their use of Salesforce. Consultants can work as employees at consultancy firms, they can be entrepreneurs who own a consultant firm, or they can be freelancers hired by one client at a time. This section is about the most common type of Salesforce consultant: a consultant who works as an employee at a consultancy firm. (If you are interested in becoming a freelancer or opening your own firm, see Chapter 10.)
Consultants are employees of consultancy firms that are hired by businesses who are outsourcing some or all of their Salesforce needs. Consultants help define their clients' business requirements, customize Salesforce platforms accordingly, and enable end-users to become more efficient via Salesforce tools. In other words, they help clients implement and optimize Salesforce to improve business outcomes.
Consultants need both functional and technical skills. They not only facilitate workshops to identify, capture, and translate key requirements into Salesforce solutions, and later to train users, but they also design and implement these solutions. The role of a consultant is similar to the business analyst role we described in the previous section. The difference is that a business analyst works with internal customers in an end-user organization, and a consultant works for a consultancy on projects with external customers, often working with multiple customers at the same time.
Consultants work on a project basis. They can be role-specific or industry-specific. For instance, there are consultants who are specialists in such areas as sales, customer service, or marketing. Some specialize in solutions for specific verticals, such as financial services, retail, or manufacturing. Some are generalists whose knowledge of Salesforce is so broad that they can customize solutions for most any industry. 
What does a Salesforce Consultant do?
Though a consultant's job will vary based on the employer's needs, a Salesforce consultant's job might include:
• Working on proposals, creating high-level estimates, creating demonstrations for sales, and presenting to potential customers.
• Facilitating workshops to identify, capture, and translate key requirements into Salesforce solutions across sales, service, and marketing processes.
• Mapping business processes.
• Managing the client relationship, which includes resolving conflicts and establishing expectations.
• Developing solution designs.
• Configuring solutions.
• Working with technical developers to implement any customizations that involve code or integration.
• Migrating existing data.
• Developing and providing training.
How much does a Salesforce Consultant earn?
The role of a Salesforce business analyst will differ from company to company, but will typically involve some or all of the following: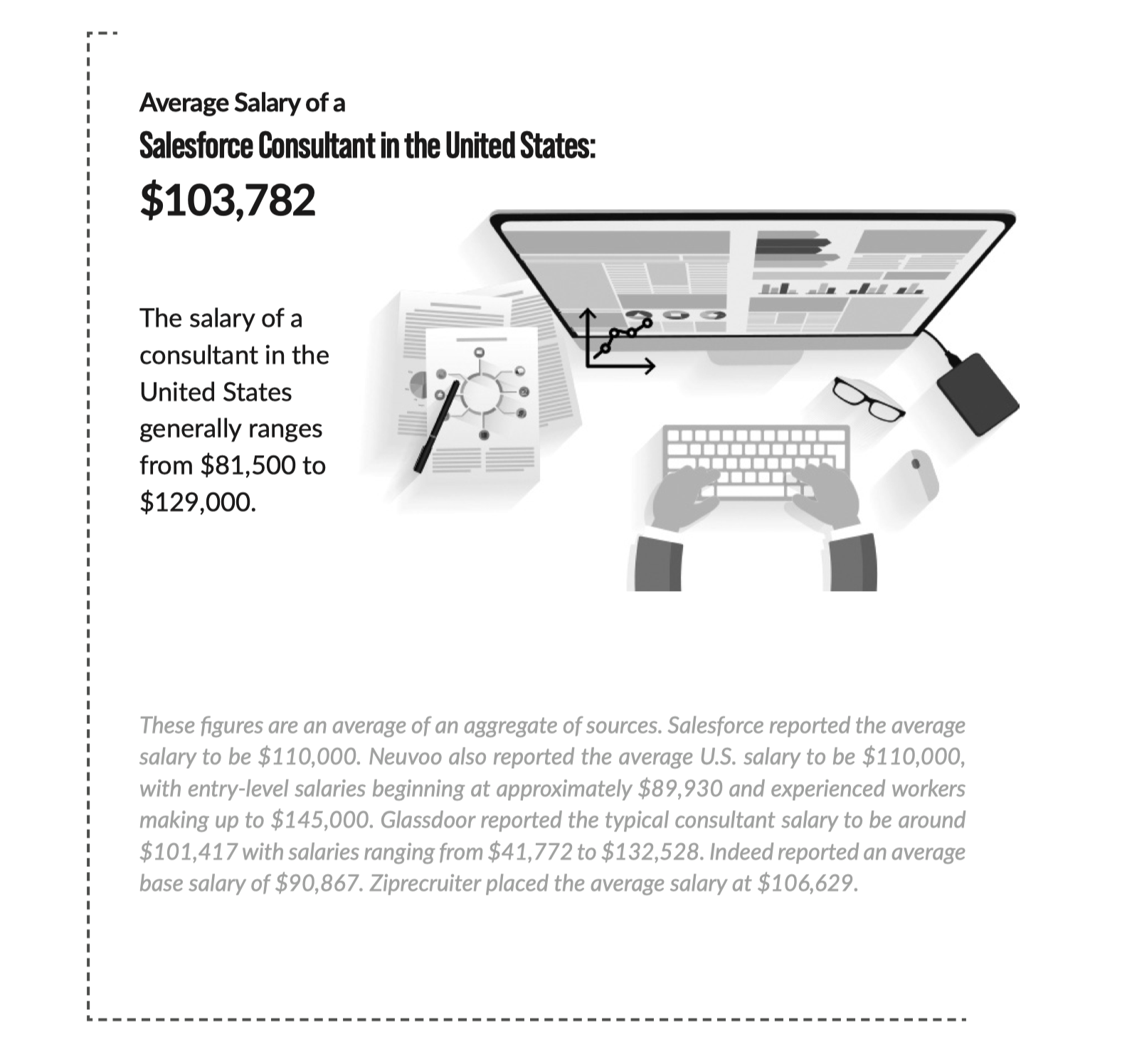 How to get a job as a Salesforce Consultant?
Consultants need to have both functional and technical skills, including:
• Hands-on experience with Salesforce, similar to the technical skills necessary as an administrator. In fact, if you have ever worked as an administrator, you were a consultant. The only difference is that you were an internal consultant.
• Data gathering and analysis.
• Experience of the AppExchange and commonly-used Salesforce apps.
• Project management.
• Salesforce certification(s), the most important being Salesforce Administrator. Salesforce consultant certifications such as Sales Cloud, Service Cloud and Experience Cloud will also be required, depending on the type of consulting projects and industries worked in. 
Salesforce Consultant Business and Soft Skills
In addition to technology-related skills, Salesforce consultants also need general business and soft skills, which might include:
Agility
Because consultants work on multiple projects at a time with a number of different clients who have their own unique personalities, business models, and challenges, consultants need to be able to work under a variety of conditions. Beyond that, consultants will have multiple clients at a time and need to have the flexibility to shift gears quickly so as to jump from one project to another.
Time management
Consultants manage and prioritize multiple projects. Because consultants have multiple clients, travel might also be involved, be it across the city, across the country, or across the globe to work as short-term employees at a firm while implementing Salesforce. This adds a layer of complexity to time management.
Patience
Consultants work with clients who have a variety of personalities. Some have strong technical skills while others need tremendous hand-holding.
Conflict resolution
As with any new endeavor, various stakeholders may have competing goals. Consultants need to understand these different viewpoints and provide solutions accordingly.
Communication
Consultants need to be capable of eliciting information, running workshops, and explaining goals. Because consultants are responsible for solving problems, they need strong communication skills so that they can truly understand the problems.
Confidence
Consultants work with a variety of people, including CEOs. As well, they often stand in front of crowds to defend a business solution.
Tips to get a job as a Salesforce Consultant
To present as a strong Salesforce consultant candidate, consider the following tips.
Practice and improve your presentation skills.
In interview and hiring situations, consultants are often provided with a scenario and asked to present a solution. Consider that this requires both a written presentation in the form of a slide deck or a drawing on a whiteboard, as well as a verbal presentation that requires explaining the thought process and communicating the process of arriving at a solution.
Practice and improve your problem-solving skills.
Know that interviewers are looking for an organized approach to solving a problem, and you might be presented with a problem that is not Salesforce related. Ajay Dubedi, the CEO of Cloud Analogy, sometimes presents candidates with a matchstick puzzle. He is not interested in how fast the candidate solves the puzzle, or even if the solution is correct. Instead, Dubedi wants to understand the thought process and approach the consultant uses to arrive at the solution.
Collect examples of how you have effectively engaged with stakeholders at different levels in an organization.
As a Salesforce consultant, you will be required to present at different times across the entire customer-engagement cycle. This includes sitting in on pre-sales meetings with senior management, running workshops with operational management, providing regular demonstrations with product owners, and training end-users.
Highlight your advanced and consultant level certifications, as well as your plans for obtaining additional certifications in the future
The quantity and type of certifications that individual consultants hold contribute to the innovation points that a consulting firm can earn through Salesforce's consulting partner program. Your certifications will be added to your employer's points, and they will be welcomed! At the time of writing this book, points are awarded based on the number of certified architects, developers, and consultants that a partner has as part of their team.
Be sure that you can demonstrate that you are up-to-date with the breadth and latest capabilities of the platform.
This means staying curious and going through the notes every time Salesforce has a new release. A Salesforce consultant is a trusted advisor, so be aware of the features that Salesforce provides out of the box. For example, a customer may need to send surveys as part of its post service experience. In this case, you should know that one of the customer's options is to use Salesforce native survey functionality.
Get involved.
Attend Salesforce events, like World Tour and Dreamin that are held in many locations around the world. Get involved in the online Trailblazer community and join online collaboration groups. Complete superbadges. Go to user group meetings. You could meet someone who knows of an opportunity, paid or unpaid, that could help you.